Zimbabwe President Robert Mugabe was celebrating his 85th birthday with a lavish all-day party Saturday despite the fact that the country is gripped by an economic and health crisis.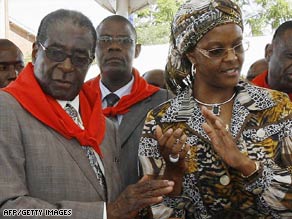 President Robert Mugabe and his wife, Grace, attend a cake-cutting ceremony for his birthday Saturday.
Mugabe's ZANU-PF party said it raised at least $250,000 to hold the party in Mugabe's hometown of Chinhoyi, about 120 kilometers (75 miles) outside of the capital, Harare.
Critics of the president say the country is desperate for that amount of money to be spent instead on its citizens, who are suffering from a cholera outbreak, food shortages, and spiraling hyperinflation. On Friday, Prime Minister Morgan Tsvangirai visited a hospital's closed intensive care unit that he said needed $30,000 to resume operating.
During the celebrations, Mugabe announced that his controversial land reform would not be reversed. The program is designed to have white-owned farms given to blacks, and there have been violent seizures of such farms since the program began in 2000.
He emphasized that the country's "indigenization program" -- which forces all major foreign companies operating in Zimbabwe to have at least 51 percent black ownership -- will be carried out. It began last year and hasn't been implemented yet.
Mugabe's birthday falls on February 21 but his party loyalists postponed the celebrations as they were raising money for the event.